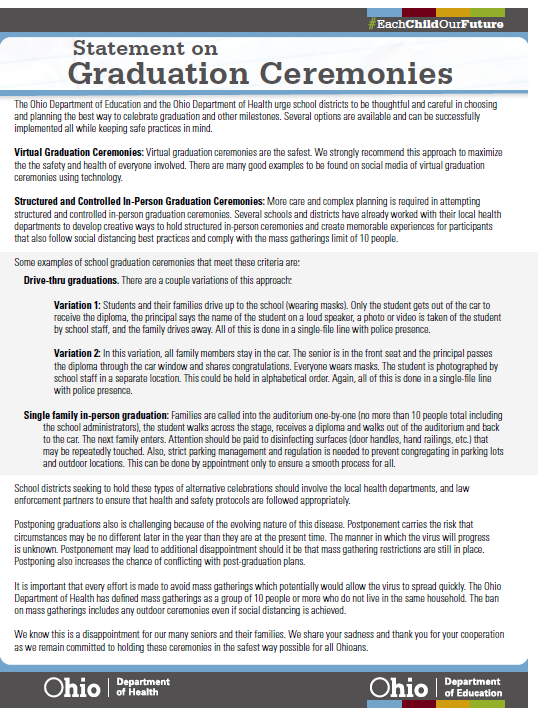 An Open Letter to the Parents of the Class of 2020
Jill Spencer
Wednesday, May 13, 2020
May 12, 2020
An Open Letter to the Parents of the Class of 2020
This is truly a very difficult time for all of our students and particularly our seniors.
As you all know we are in a very serious pandemic, with many restrictions, and must work within the state directives. We cannot hold a traditional graduation ceremony and graduation parties. We deeply feel for all of them.
So all at W-G were thinking "what can we do for our seniors?"
Mr. Swaney and Linda Crawford came up with the idea to do a vinyl poster for all seniors, they did huge work, and the village agreed to put on the village light poles. They were featured on WLIO TV. [No class has ever had posters featured in the village]
Then Mr. Swaney asked me if we could participate in the national movement "Light it up for the Seniors, the Class of 2020" all together one night at the football field at 20:20 (military time for 8:20 pm) with the football lights on for 20 minutes and 20 seconds. [No class has ever done that]
The graduation ceremony:
I want to share, close to chronological order, events leading up to where we are today:
I was on the Senior Meeting, on Zoom, with Mr. Hogan. Mr. Hogan did say that he wanted all seniors to have a real graduation and we would wait until we could assemble.
Some students were upset because they wanted their diploma and to move on. One said they had a job out west and they would be leaving the week after our planned graduation, May 17th.
Then the Ohio Dept. of Education directed all school districts to do a remote graduation. Not to wait, to do it timely. Then a senior approached the village and wanted to do a parade and a drive through graduation. A direct violation of the State Health Dept./Governor ban on parades.
So, Mr. Hogan put out a survey. Eighteen wanted the parade and drive through. Two wanted a Zoom graduation. 20 of 42 seniors responded, less than half of the class, but the winner was a drive through 18 to 2.
Then, there were upset parents that did not want a drive through.
Several proposed distancing at the football field. A direct violation of the State Health Dept./Governor's ban on any assembly of more than 10.
One proposed all seniors and families would come in two cars and all 84 parked in the back lot and seniors went up one at a time to receive their awards and diplomas. I called Oliver Fisher, Director of the Auglaize County Health Department, and asked if that would be an allowable event. He adamantly said no, that would be considered an assembly of more than 10.
Then, Governor DeWine, in a response to a question from a reporter, said he had not seen what the Ohio Department of Education (ODE) put out to all districts but thought in a smaller school a graduation could be held on a football field. Then statewide, all chaos broke loose. We were called liars, no good people, just flat out lied to everyone.
Then the next day Governor DeWine said he was wrong, hadn't seen the previous ODE order, and in reviewing with ODE they were going to send out new directions to all schools that afternoon. I have attached that ODE directive. In short, it still says they encourage doing the graduation timely, that they much prefer a remote graduation, please do on-line, BUT they added two more options: A drive through graduation, as long as it is single file, all in the car wear masks, only the senior gets out, and there is no assembly, i.e. the line moves. OR the senior and their family can come in one by one and get their diploma, take pictures, and leave.
In doing more research I came up with the concept of doing a video; we would hire a videographer and have seniors and four family members come in one at a time, hand the diploma, take pictures, they leave; the next family/senior comes in and then we would put it all together. Several parents in direct contact with me thought that was the classiest option.
So the next step was to put out another survey with three options, the Zoom live remote graduation, the drive through, and the pre-recorded video. I have attached the survey I wrote and asked Mr. Hogan to put it out very quickly before the special board meeting where we would make a final decision.
Again less than half of the seniors responded (18 of 42) and nine wanted the drive through and nine wanted the classy video...dead tie.
Then, at the special board meeting, Peyton Burden said he represented 15 or so seniors on his chat and the reason we did not even get half of the seniors to respond to our survey is because they didn't want any of our options, they wanted to wait and have a real graduation like Mr. Hogan said.
After listening to all public participation, comments to the Board and after all board members spoke, I recommended to the Board President that we do the drive through, so those that want to move on can do so, and to also do a formal recognition at a later date when allowed to assemble. The reason for that is that it sounded like about half of the seniors wanted to do an in person ceremony later and about one-fourth wanted the drive through; and in addition we are videotaping each senior when they get their diploma and awards and will putting together a video, which the last one-fourth wanted. The video will include the pre-recorded speeches of our valedictorian, salutatorian, and the class PowerPoint (elementary, MS, HS picture and music).
Therefore I thought everyone would get what they wanted to the best of our ability.
Not the ideal, not what we would have liked to do, not the same thing as a gym, but the best we can do given the restrictions.
Additionally, the ceremony will be broadcast on Facebook live and those in line without Facebook can listen on an FM station streamed out. This also allows people to see from their own homes.
I also know the idea of allowing the seniors to assemble and line up for a parade after receiving their diploma was an issue. We cannot allow it because parades are still not permitted by order of the Health Dept./Governor. We do not want to put the district in jeopardy.
We were allowed to assemble and line up before receiving the diploma because it was an allowable event, a single file line graduation ceremony per ODE Directive. Also with approval of the Auglaize County Health Dept. because at the start-up we have at least five EMA people, Chief Motter, Sheriff's Dept., and five or six school employees in the front lot ensuring people do not get out of their cars.
HOWEVER, Mr. Brookhart suggested the Baptist Church, and I called Pastor Don, and he welcomed all of our seniors to assemble and line up for a parade there. He is very happy to accommodate all seniors.
People can do anything they want in violation of state and county orders. There are many opinions about the handling of the pandemic. As a school system we cannot allow an assembly for a parade or sponsor anything that is in violation of a state order.
Another issue was limiting to one vehicle. When we were asked about split families, in essence how could we make a senior choose between mom or dad or a guardian, we were sensitive to that and sent an email to all seniors that if that was the case to email Mr. Hogan and he would allow and put a second car in the line-up.
Another issue raised was not being able to decorate vehicles. Feedback from people was taken into consideration. Mr. Hogan then allowed and emailed that decorations on vehicles would be allowed to all seniors.
I wanted you to have more information and to make sure you know that we do care very much for the seniors and are working to provide the best experience that we can within the state restrictions.
Please be safe and take care in this difficult time.
Sincerely,
Chris Pfister
If you have a comment or question please feel free to contact me at 419-568-9104, leave a message and I will get back with you ASAP.